WristBands Styles and Colors
Apart from the types, Wristbands were also available in many different Styles and Colors. Users may have their own opinion or options when they purchase their own wristbands in shop or through online bookings. Some of the most important options which are normally available when they purchasing Wristbands are listed below, you may find various Styles and Colors on different types of Wristbands.
You may purchase your wristbands online with various Colors, Styles, Types from AmazingWristbands. You may also mail all your queries directly to our Customer Service Representative from this URL.
Band Color Styles
Color plays a major role on your Wristband. You may choose your wristband from n number of colors. You also have an option to select a solid plain color or you may choose your two different colors on your front and core part of your wristband.
Following are some of the types of color options available in Wristbands.
Band Text Font
A Font creates an impression on the style and makes the other to feel of your message which is written on your Wristbands. You may choose your font from various choices available in the Wristband Configurator to may your wristband unique from others.
Following are some of the common fonts which are available when you configure your wristbands.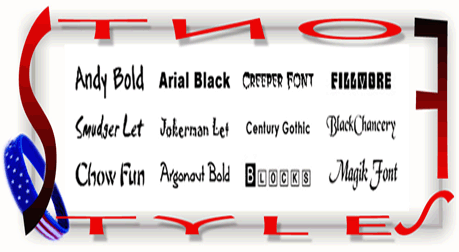 Band Text Appearence
You may write any text (max 25 characters) of your own on your Wristbands. You may also have the option to write different phrases on the front and back side of your same wristband.
Following are some of the wristband text styles.
Band Art Works
Apart from all the other Text, Color and Font styles you may also draw Symbols, Logos, Images or mascot on your Wristbands. You may also add art images on both the sides of the text and in the wristbands too.
Below are some of the most popular Art images, which was added by most number of users on their wristbands.